2022-2024 Undergraduate Catalog
2022-2024 Undergraduate Catalog
---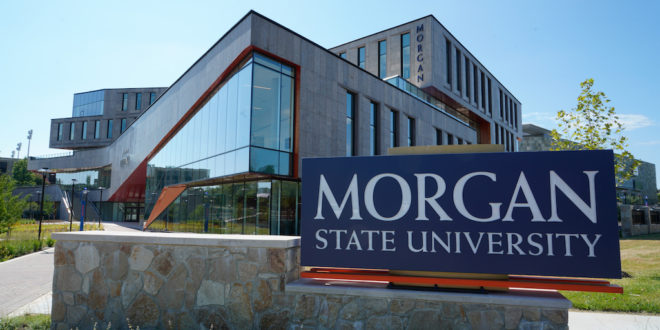 Provisions of this publication are not to be regarded as a contract between the student and Morgan State University.
Changes are effected from time to time in the general regulations and in the academic requirements. There are established procedures for making changes, procedures which protect the institution's integrity and welfare. A curriculum or graduation requirement, when altered, is not made retroactive unless the alteration can be accommodated within the span of years required for graduation. Additionally, because of space limitations in limited enrollment programs, Morgan State University may not be able to offer admission to all qualified students applying to these programs and/or class sections.
Morgan State University
AFFIRMATIVE ACTION AND EQUAL OPPORTUNITY POLICY STATEMENT

It is the policy of Morgan State University that all employees and students should be able to enjoy and work in an educational environment free from discrimination. Discrimination against any person or group of persons on the basis of race, color, national origin, religion, sex, sexual orientation, age, marital status or disability is prohibited by this Policy. Any employee, student, student organization, or person privileged to work or study at Morgan State University who violates this policy will be subject to disciplinary action up to and including permanent exclusion from the University.

Discrimination includes conduct (oral, written, graphic, or physical) directed against any person or group of persons because of race, color, national origin, religion, sex, sexual orientation, age, marital status or disability and that has the purpose or reasonably foreseeable effect of creating an offensive, demeaning, intimidating, or hostile environment for that person or group of persons.

The scholarly, educational, or artistic content of any written, oral, or other presentation or inquiry shall not be limited by this Policy. It is the intent of this paragraph that academic freedom be allowed to all members of the academic community. Accordingly, this provision shall be liberally construed but shall not be used as a pretextual basis for violation of this Policy.

Information on the implementation of this policy and/or the statutes referenced should be addressed to the Director, Office of Diversity & Equal Employment Opportunity, Morgan State University, 104 Truth Hall, Baltimore, Maryland 21251. The telephone number is (443) 885-3559.

*The University is required by federal regulations to collect admissions and enrollment information by racial, ethnic and sex categories. The use of this information is for reporting purposes only, and is not used to determine eligibility for admission. The provision of this information is voluntary.
Morgan State University reserves the right to provide some or all instruction and related academic activities through alternative methods of delivery (other than face to face), including remote/online delivery.  It also reserves the right to change the method of delivery before or during any academic term in the event of a health or safety emergency or other circumstance when it determines that such change is necessary or in the best interests of the campus community.  Tuition and fees will not be reduced or refunded if the University changes the delivery method during any period or all of an academic session.
---